Who we are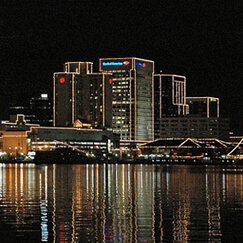 VA Party Bus exists to provide its passengers with the kind of night on the town that no one else even dares to deliver. Our first concern is always your safety, so that you don't have to be concerned about it at all. You can focus on having the time of your life with your friends and family while our professional chauffeurs eliminate the problem of finding a designated driver, and even better, eliminate the endless search for the perfect parking spot! This is truly traveling in style.
The high-tech amenities that we provide on the buses are the main attraction for most people, including luxurious leather seating, wood flooring that easily doubles as a dance floor, dance poles, flatscreen televisions with HD antennas to bring in network channels when the bus is not in motion, DVD players to entertain you while the bus is in motion, and hookups for both CDs and iPods so you can enjoy your music on our superb sound system. Gorgeous fiber optic lighting sets the mood. There's no better way to make that long trek than in a party bus.
Since our very first day of business, we have been pleasing our customers with personalized service and the utmost attention to detail. Our vehicles are absolute state of the art, top of the line party buses, equipped with everything that you need to have a really memorable night. Our chauffeurs are professionally trained -- real chauffeurs, not just drivers! We have a tough screening process to make sure that we only hire the best of the best. Your safety always comes first! And of course, we are insured to protect you.
Our company works hard to provide its customers with every perk that we can find, from GPS navigation to special pricing on certain days of the week. We have several different buses to choose from, depending on how many people you need to seat, as well as the style of décor that fits best with your event. We can customize our service to any type of event, from weddings and bachelorette parties to a weekend pub crawl!
It's true that planning transportation for the bigger events in life can be a real headache, but not when you plan it with VA Party Bus. Head over to our contact page to contact us for your free quote right now!