Our Fleet
When you're thinking about hiring a party bus company for one of your special events, you can feel safe and secure choosing VA Party Bus thanks to our top of the line fleet that also includes some of the most luxurious features available today, including flat-screen televisions and booming audio equipment for your entertainment needs, beautiful fiber optic lighting to provide a soft glow while you're on the road, and cozy deluxe seating and up-scale furnishings to make sure that your surroundings are just as memorable as the occasion you're celebrating! On this page we'll tell you about some of those high quality features that make Virginia Party Bus everyone's top choice.
For your entertainment, the buses in our fleet provide flat screen televisions equipped with DVD players so be sure to bring your favorite movies with you! We suggest sticking with a theme, for instance if you're having a bachelorette party, go for wedding and bachelorette party types of movies! That's so much fun for you and your guests.
The music lovers out there will love the fact that our buses are equipped with a state-of-the-are audio system, and you will of course be able to take advantage of those thanks to the CD and iPod player. You can bring a stack of your favorite CDs with you, or just throw your iPod or MP3 player in your bag and you're good to go. Maybe create that perfect mix CD or play list to provide the perfect soundtrack for your big night!
When it comes to comfort, we've got you covered. Our buses have premium tinted windows for the utmost privacy while you're on the road, custom leather seating for ultimate comfort, and fiber optic lighting to cast a warm glow throughout the bus. The wood flooring helps it to double as a dance floor, and the bars with coolers and lighting and built-in cup holders make it easy keep your guests' glasses filled while on the road without any spills!
Surround sound stereo
iPod/phone and aux hookups
Bluetooth audio
Plush leather seating
Fiber optic lights
Beverage stations
Smoke-free bus
Wet bar
TV and DVD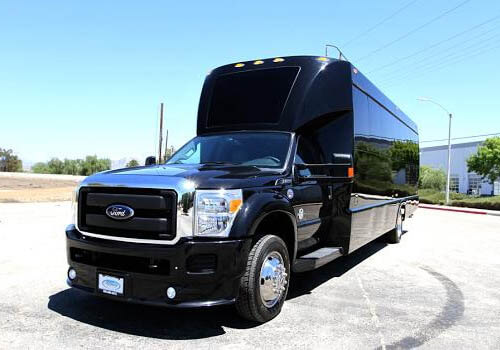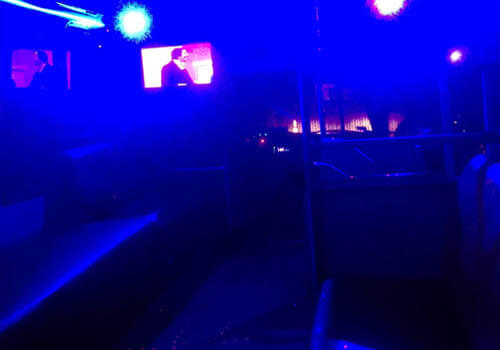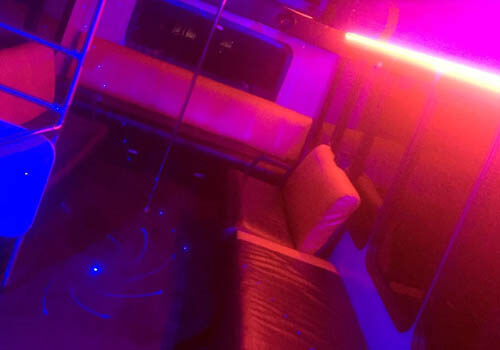 Maximum capacity of 25
Wet bar/cooler area
Colorful fiber optics
Plush leather seating
TV and DVD player
Complimentary bottled water
Smoke-free bus
Dance pole
Outstanding stereo system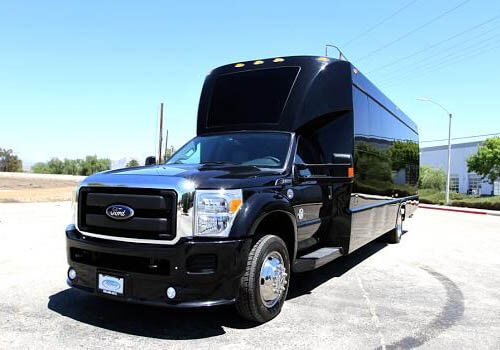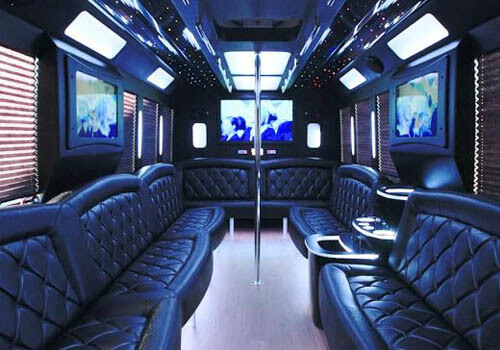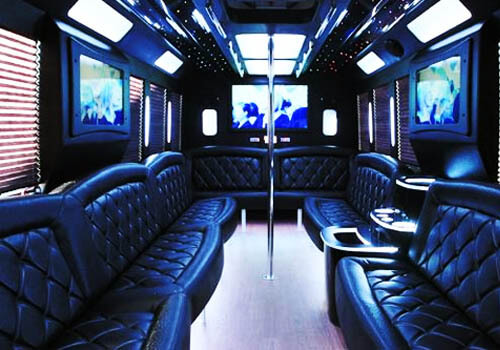 Beautiful custom interior
Leather perimeter seating
Wood floors
Colorful lighting effects
Dance pole
CD player and iPod hookup
Dark window tint
TV and DVD player
Cooler/bar area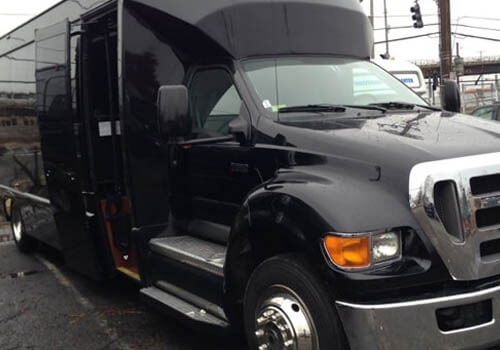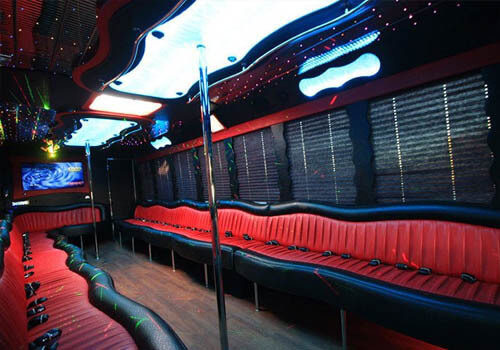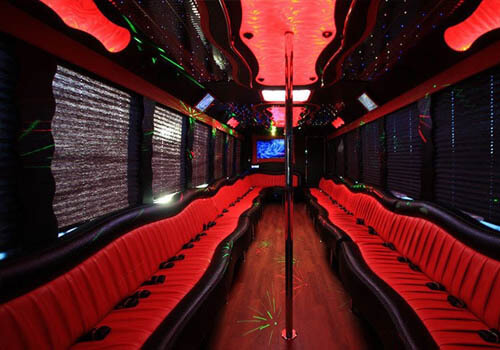 Surround sound stereo system
Plush leather interior
Lighted bar areas
CD player
Auxiliary cord
USB charger
TV and DVD player
Ice, cups, and bottled water
Dance pole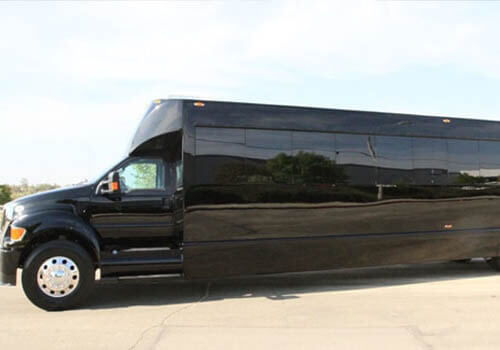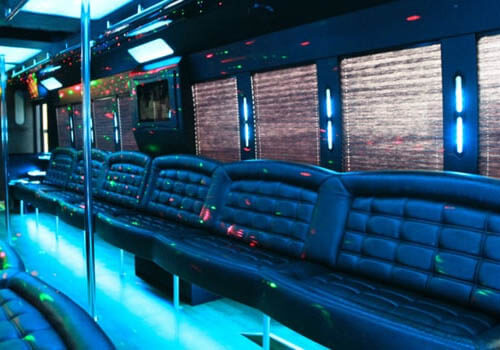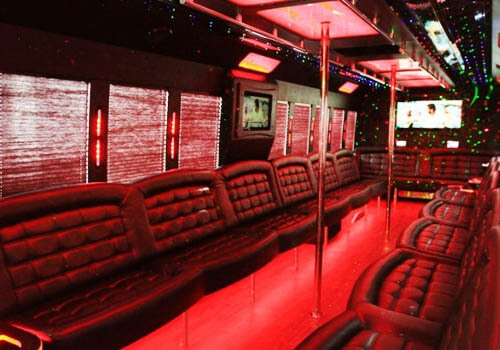 Limousines
8-10 Passengers
Leather interiors
Wet bar
TV and DVD player
Fiber optic lighting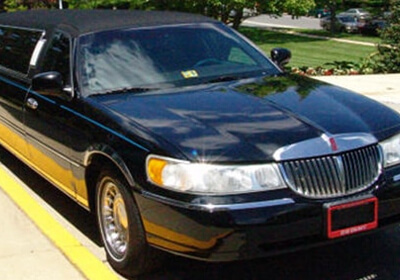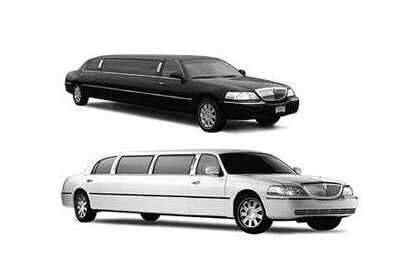 Shuttle Bus
43 Passengers
AM/FM radio and CD player
Inputs for MP3/iPod/Android
Leather seating
Colorful accent lights
Privacy shades
Dark window tint
Restroom
Great stereo
Forward-facing seats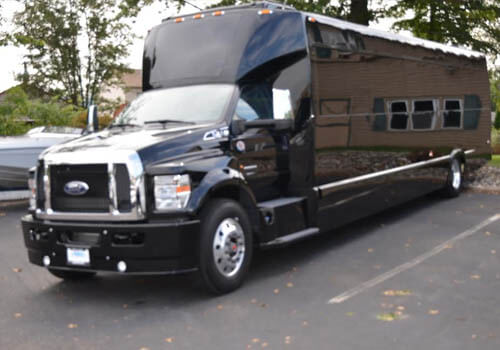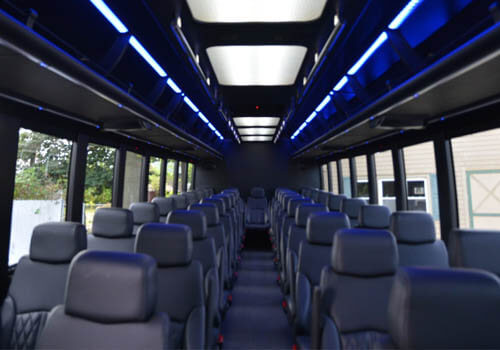 AM/FM radio and CD player
Inputs for MP3/iPod/Android
Colorful accent lights
Dark window tint
Great stereo
Forward-facing seats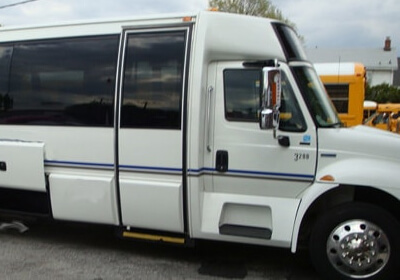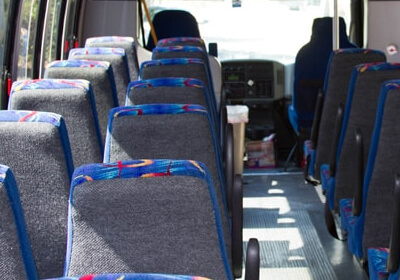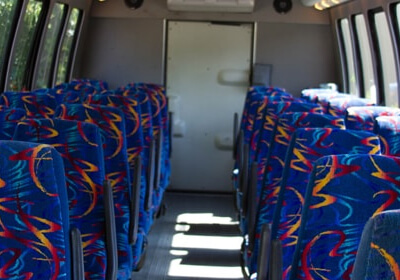 Charter Buses
3-7 Passengers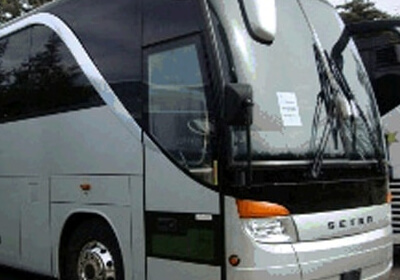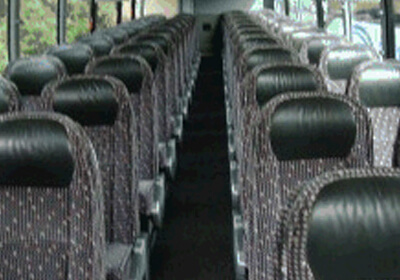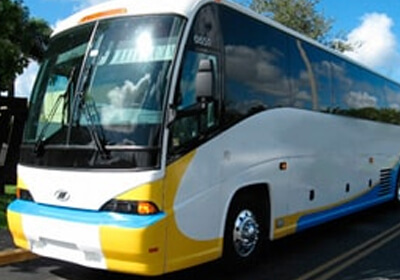 Sedans + SUVs
3-7 Passengers
3-4 passenger Town Car
7 passenger Escalade
Dark window tint
AM/FM radio and CD player
Clean and comfortable
Climate control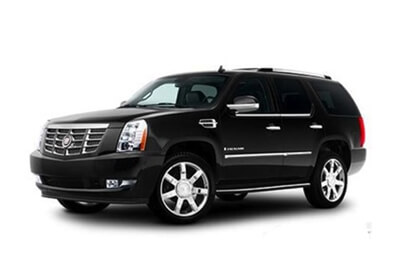 Whether you're hosting a large party or just taking a long trip with friends, our VA Party Bus vehicles are equipped to handle anything. Our professional chauffeurs are ready to take you wherever you need to go, and all you've got to do to book your big celebration is give us a call at 703-991-2088, or email us. Not ready to book your trip yet? Then keep browsing for more information via the buttons at the top of this page!