VA Charter Buses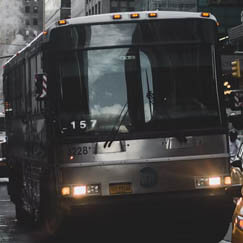 VA Charter Buses welcomes you! We're so happy that you're considering us for your charter bus needs in this area. Many of our customers are aware of our party buses and limousines, but some are brand new to charter buses and are not familiar with all the exciting perks that these vehicles can provide. If you have a really large group of passengers for virtually any type of event, a charter bus can be the ideal mode of transportation for you. We've put together a few of our most frequently asked questions about charter buses right here for your convenience, but if you have any other questions or concerns, please don't hesitate to reach out to VA Charter Buses for more information!
Are charter buses only for long distance travel? Absolutely not! VA Charter Buses wants you to know that our vehicles can be comfortably and ideally used for both short and long distances. These vehicles offer our passengers convenience as everyone can travel in one bus without needing to worry about finding parking for their own vehicle when they reach their destination, cost efficiency and fuel efficiency since you don't have all those vehicles on the road at the same time, and of course safety because no one has to worry about the headache of traffic snarls when you have a professional chauffeur at the wheel.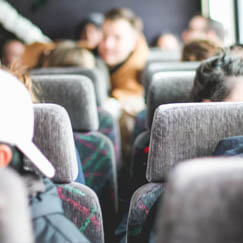 Do we need to all meet in a central pickup/dropoff location? You can, but you do not necessarily need to. Depending on the number of passengers and the distance between their homes or places of business, it can be feasible to pick everyone up from their own independent locations. However, many of our customers do choose pickup points like parking lots, airports, or their shared office space. We will work this out to whatever is most convenient for you.
How many passengers can fit in one charter bus? We've got a varied fleet for you to choose from, so this depends. On the lower end, the smallest charter bus in our fleet holds 38 passengers. On the high end, our largest charter bus holds 56 people and offers some premium features that the other buses do not. But each trip is different and has different requirements, so our team will figure out which one is best for you and what makes the most sense. Sometimes a party bus or a limo is a better option for smaller groups!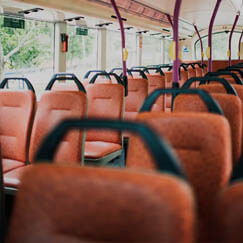 There's no reason to settle for less than the absolute best transportation when you can choose VA Charter Buses! Once again, we offer not just the best charter buses, but also the best limousines and party buses too. We'd love to talk to you about your specific needs for your trip in the VA Charter Buses service area, and we'd like to extend you an invitation to come and see our fleet in person to really choose the vehicle that appeals to you the most and fits your needs the best. We look forward to your call or your email!