DC Party Bus
Washington D.C. Party Bus Service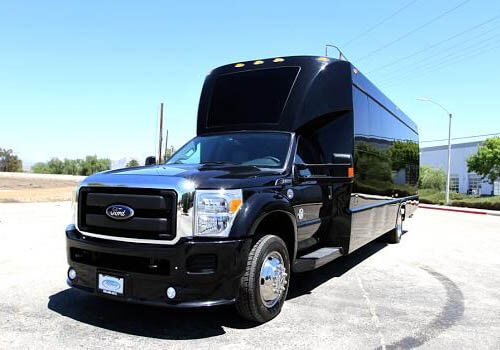 As you might expect, there is a lot of need for luxury transportation services in the Nations Capital, that's why we have made sure we can provide our top of the line party bus service in Washington DC, between all the visitors looking for affordable, expert group transportation to see the sights around DC and all of the locals needing a party bus for events and occasions from your wedding, prom, even just tailgating local sporting events and bar hopping. We have vehicle to do it all.
Check out the finest selection of limousines and party buses in Washington, DC!
Among our catalog of luxury rentals, you will find one of the most extraordinary models of limos and party bus rentals in the Washington DC area. Whether you wish to ride a DC party bus rental because you will be partying with your bunch of friends, or you want a more exclusive stretch limousine because it will be just you and your significant other, we got you. Each limousine and party bus rental has neat, polished exteriors and modern interiors that offer incredible features with everything you need for having a memorable special event. Once you hop in the DC party bus or limo rental, you will be received by its spacious interior where you can do whatever you please, including enjoying commodities like comfortable leather seats, a surround sound system where you can play your favorite songs, flat-screen TVs. with DVD players, fiber optic laser lights, a dancing pole, hardwood dance floors, coolers for your drinks, and cup holders. But what truly makes us excel above our competitors is that besides having the finest limousines and party bus rentals, we provide the best service that will make sure that you have a great time during your big day. The professional experience provided by our DC limo service plus a top-of-the-line DC party bus or limousine rental is the perfect combination for a memorable party. In relation to the excellent quality of our party buses and limo rentals, you won't find any other luxury vehicles better than ours. That also means that the party started right when the DC limo bus or limousine rental picked you up. Thanks to their surround sound speakers and wood dance floors, you will make what is an A-1 luxury rental into a fun party bus or limo rental where you can celebrate any way you want. Whether you decide on an elegant white stretch limousine or any of our party bus rentals DC, it will make you go to the next level during your upcoming special occasion.
Sporting Events - In the Washington, DC area, there are a bunch of great sports to enjoy with a loyal fan base, even for newer teams. From Tailgating Washington Redskins football games, Washington Nationals baseball, Washington Capitals hockey, Washington Wizards, and D.C. United Soccer, Maryland Terrapins, and Georgetown Hoyas games. Get your tickets, then give us a call for your quote on the perfect party bus package for you and all of your friends to enjoy the entire experience without the troubles of traffic. Have a great time as soon as we pick you up.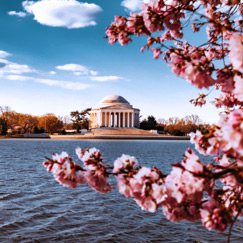 Sightseeing and Attractions Of course, everyone wants to see the White House and The U.S. Capitol Building, but that's just a small fraction of the historic sights; the National Mall hosts 11 Smithsonian museums, including the National Gallery of Art. It's important to book an experienced chauffeur because D.C. traffic is notoriously bad, in addition to expensive parking. But our expert chauffeurs will know you should be seeing the National Mall at night. We also know which places are free to visit, like the Library of Congress and the National Zoo; we also know which places you need to plan up to a month or more in advance to see, like taking a White House tour. The United States Holocaust Memorial Museum is another place you should visit along with the Martin Luther King, Jr. Memorial, The John F. Kennedy Center for the Performing Arts, and even President Lincoln's Cottage where he drafted the Emancipation Proclamation along with the Lincoln Memorial and Mount Vernon about 40 minutes away. We have still barely touched the surface; there is so much to take in you'll probably want to spend a few days.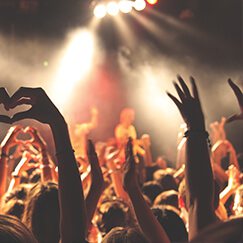 Concerts - There are plenty of free festivals and shows you can see, along with concerts from some of the biggest names in music you can see at many amazing music venues in the area. The biggest performers will often be seen at the Capital One Arena, with more shows at wonderful venues like Warner Theatre, The Anthem, DC9 Nightclub, The Fillmore, The Kennedy Center, Jiffy Lube Live, Glow at Echostage, Birchmere, U Street Music Hall, Howard Theatre and many more. Book today.
Choose us for a deluxe limousine or party bus rental!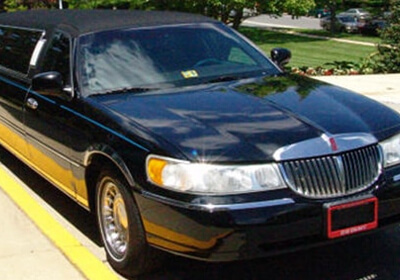 Are you ready to have the best party of your life? Well, you are a phone call away from one of the most incredible party buses and limousine rentals in Washington, DC. Renting a limo or party bus DC is one of the best decisions you can make for upgrading a celebration. And because we have one of the finest limousines and party bus rentals in town, you will have the opportunity to decide among the top options in the market. If you are planning to party with a bunch of people, the best for you would be to have a party bus DC with enough room for all of your group, but if it is just you, a limo rental would be better. Either way, both limos and party bus DC rentals have everything you'll need for having a moving party, including its premium sound systems, fiber optic lighting, bars with coolers, hardwood floors, leather seats, TVs with DVD players, dark tinted windows, and more. All of that will make the party bus or limousine rental party rolling wherever you wish to go in the Washington, DC, area during your special day. Our party bus services are suitable for all special occasions, whether they are formal, like weddings, corporate events, or more casual, like bachelorette parties, bachelor parties, sightseeing tours, and even a group outing to a night club. You can contact us at any moment of the day or night, and our exceptional customer service will be there for you for anything you need. We will provide you with an instant quote, and when you see our affordable prices, you will think we provide cheap party bus rentals, but the truth is that we have the fairest rates for such top-notch deluxe vehicles!
It's really simple to get the ball rolling for booking one of our party buses or limo rentals with a free quote by making a quick phone call to us at 703-991-2088 Our booking specialists will answer any questions you may have and be able to assist you in finding the perfect package for your specific needs, be it a limo bus or limousine service. Once you have your quote, you can just call us back to book your DC party bus or limousine rental.